Few years ago, I was at Kanaha,Maui,Hawaï, one of my favorite windsurf spot for its fun outside reef. After one more crazy session with wave and turtles, I was looking at few board back of a truck on the parking. It was Quatro board. I was aware it was good board but at this time in France we didn't see too much of them. Few minute after the owner of the truck ( and owner of the boards ! ) saw me and we began conversation. It was Laurent Guillemin, the french member of the Quatro team. He suggested me to come the day after, to have a morning coffee at "La Cannerie" in Haiku.
La Cannerie … here is the epicenter. When I'll arrive there it take just few second to understand that lot of part of the game start here. How can I describe you that … It's a key point where you have at same time the shaper, the sail designer, the designer, the shop, the coffee … It's a meeting point. People come to speak and share ideas. Feedback go directly in the head of the shaper. Surf tendance are share. Technical problem and technical solution are share. From the water to the idea, from the idea to the custom, from the custom to the product it can take half an hour to see everyone. Here is the key and here is the beauty of La Cannerie with the Quatro-Goya team.
"HOW IT ALL STARTED AND WHAT'S NEXT"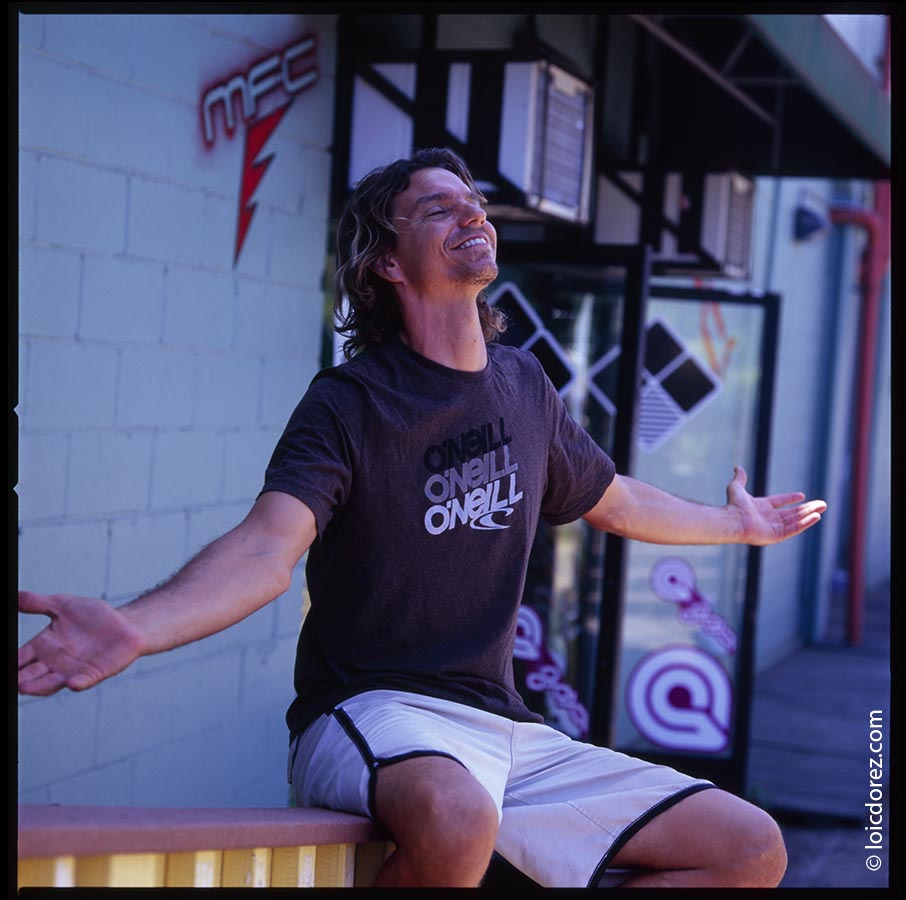 with Francisco Goya, world champion, developer and father.

How did you get into gear design and starting Quatro / Goya?

I was tuning my skateboard when I was 6, back, my brother will work on the graphics while I would be tuning the tracks and rest of the hardware. As soon as I got hooked into windsurfing, I understood that to be able to ride how I wanted, I would need to spend almost as many hours developing the gear as I did in the water. I would look at magazines and videos when I wasn't in the water and draw my ideal moves, sails, boards, fins, etc. Along that time I started working with the local custom manufactures in Argentina and when I turned 18 I moved to Maui to ride all day long and live my dream. Here I started riding for different shapers and designers while helping them along their R&D programs. 5 years later, in 1994 I got together with my close friends (note : Keith Teboul, Jason Prior, Sean Ordonez and himself) and we started our own brand and factory, that was and is Quatro today. We didn't have to convince anybody anymore, we just did the designs that we wanted to ride and we would build them with all new materials that directly influenced our riding and the way other people felt about windsurfing. So really it was those passionate windsurfers from all over the world that bought my gear and were stoked with the sport that started the brand.

And how is it working in Goya?

It work together with a team that been focusing their whole life around windsurfing, the office, showroom, loft and factory are in Haiku, 5 minutes away from one of the most consistent and mixed conditions in the world to ride on. The mixed conditions that Maui has to offer along with a huge amount of visitors from all over the world, allow us to test the gear ourselves and receive direct feedback from our customers. So everyday we ride and hear feedback that is put back into the products, business and sport. All revolve around our passion and development for the ultimate ride, company and sport. When the new years gear arrive I'm just as excited about it as I was with my first board 25 years ago.

Do you look towards technology or experience?

In 1992 we started experimenting with the first styro/sandwich windsurf boards and with the new light weight gear was that inspire our riding into the double loop revolution, later on1996 we started working with our first CNC shaping machine, with it came all the concave and double concaves bottoms that later led to the twin fin, Quad development and with them complete change on outlines, bottom shapes and the way we will ride waves forever. So yes with the same crew we continue working on today at our factory and loft now we are searching into greener materials, so really it is both, the experience that comes from the consistency, team work and the technology, the commitment to make it better everytime.

What does Goya offer that the competition dont?

By developing boards and sails together we are able to combine designs and directly bring across our view for the sport. I also see the windsurfing industry as a community project, we are all learning and seeing how we can improve the sport, one thing I'm sure, it will take a lot more than one brand and one vision to really take windsurfing to where it deserves.
Now the team is really large, trying to not forget someone there is : Keith Teboul, Lalo Goya, Francisco Goya, Pascal Broninman, Laurent Guillemin & Molly Sander who were there since really a long time. For graphics marketing you have Bjöern Zedlick. On the factory side there is Thierry, Philippe, Dave, Mike, Emanuel and Nano who make the graph for the custom boards. Stéphane is the web technician.

The team riders are : Levi Siver, Brawzinhie, Bernd Roeiger, Camile Juban. Jason Diffin design sails and he is in charge of the sail loft.
To go there : Quatro – Goya, 375 West Kuiaha Rd, Unit #1, Haiku, HI 96708, USA
Website :
Vidéo courtesy : Quiver Windsurfing